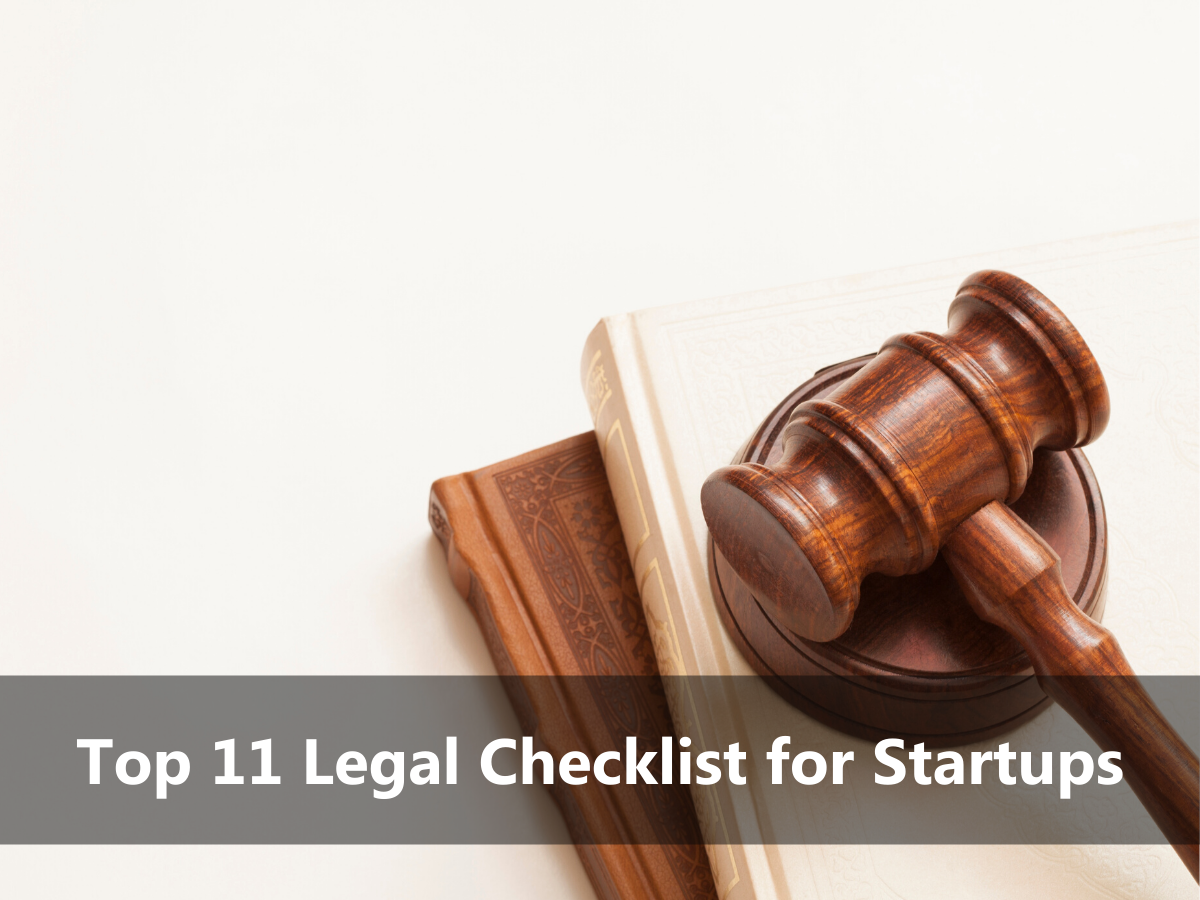 Coming up with an idea for a start-up and securing sufficient funds to get their business off the ground is only half the battle won for entrepreneurs. Entrepreneurs still have a long road ahead of them before their business is truly up and running.
Entrepreneurs must consider the legal upshot and unless they secure their start-up with solid legal support, they are sure to run into problems in doing business. That is why it is crucial for entrepreneurs to prepare a checklist of things that need to be done to ensure compliance with laws and regulations and avoid expensive and lengthy lawsuits.
1. The Co-Founder Agreement
The co-founder agreement becomes necessary when the start-up is founded by more than one entrepreneur and is necessary to delineate the responsibilities, duties, roles and share of the business of all the co-founders.
Many start-ups often waive this vital legal document and proceed on the terms of a verbal agreement. However, this is unwise as in the event of a dispute, proving the terms of a verbal agreement will be difficult and may also slow down the operations of the company and result in losses.
To avoid the possibility of bitterness and any negative impact on the company from disputes between the co-founders, the founders should sign a co-founder agreement as an essential step in the initiation of their business.
2. Structuring your Business
A start-up can be structured in many ways and a start-up lawyer can advise the entrepreneurs on which structure would suit their business the best. Popular choices for structuring a business include-
Sole proprietorship
Limited liability partnership
Partnership
Private limited company
To ensure the growth of a business, seasoned lawyers will suggest a private company structure as it allows for the fastest way to raise funding. This is because by having the ability to sell a share of the company in exchange for investment, entrepreneurs provide a clear incentive to investors to invest and can, therefore, raise funds relatively easily.
Moreover, this structure also immunizes the individual founders from legal action taken against their company as a company exists as a separate and independent legal entity. A company's independent legal identity also gives the founders the ability to realise the full potential of their finances and tax benefits.
3. Fund Raising
The start-up can only see the light of the day with funds. So what are the best options for entrepreneurs? Most often, they look to their family and friends to pitch in and get the ball rolling. But there are other avenues as well.
Entrepreneurs, depending on the stage that their business is at, can consider raising funds from angel investors, venture capitalists, private equity funds, family offices and other companies as well. It is advisable for entrepreneurs to engage legal professionals having extensive knowledge of the sources of funding that businesses can consider and how an investment can be structured, included as debt or equity.
4. Safeguard the Intellectual Property
The start-up and the idea it is built on a property that is developed from human intellect, which is why it is called intellectual property. As intellectual property is intangible, entrepreneurs must use the full extent of the options available to them to protect their intellectual property. Trademarking the logo and name of the company is an essential first step for any business. For businesses that produce creative works, entrepreneurs have the option of obtaining a copyright registration over the works.
Start-ups can even register a patent for any software or scientific invention invented by them to prevent piracy and profiteering by unscrupulous individuals and to safeguard their sole right to commercialise their inventions.
5. Non-Disclosure Agreement
Start-ups have begun to realise the importance of requiring concerned parties to sign a non-disclosure agreement or an NDA. When entrepreneurs negotiate with investors or contractors, they reveal sensitive business information like pricing, trade secrets, details of proprietary software, customer lists etc as part of the negotiation.
An NDA is a must to prevent any misuse of this sensitive business information. This is because an NDA allows entrepreneurs to hold parties to an NDA accountable for misusing sensitive business information as such an action amounts to a breach of contract. Depending on the way an NDA is drafted by a legal professional, it can give entrepreneurs a range of rights to counter a breach, including the right to injunctive relief and damages.
6. Make Sure the Accounts are in Order
Maintaining accounts is absolutely essential for any business as it helps record all the monetary transactions of the start-up, including income, expenses, taxes etc. The reason why keeping accounts in order is a legal necessity is because if any financial detail does not add up, it will be easy to spot through the accounts ledger.
The books of accounts will also be useful in disproving any allegations relating to misuse or mismanagement of finances made against the company. Maintaining and regularly updating your accounts will also be incredibly beneficial during an audit or the due diligence process during a fundraising round, where accurate accounts can spell the difference between cash in the bank and empty handedness for your business.
7. Comply with Labour Laws
In an era where the rights and wellbeing of employees are safeguarded with iron-clad laws, it is important to ensure that all relevant employed laws are complied with. A start-up lawyer can guide a business through the maze of labour and employment laws.
As a first step, it is crucial to engage a legal professional to ensure that your business has clear policies regarding sexual harassment, terms of employment, gratuity, PF, probation period, termination of employment etc.
8. Privacy of Website or App
Most information technology start-ups create websites or applications, and start-ups must ensure that they adequately protect these platforms because competitors or unscrupulous players can make profits off the content on a start-up's website or mobile application. This is why, engaging a legal professional to draft terms and conditions that can regulate the use of the product or service being offered is essential.
9. Prevent the Infringement of Information Technology Laws
Start-ups exist in a digital world where most aspects of business take place online. Cloud computing, transactions, vital data pertaining to the operations of the firm, digital signatures, web-based services can all be manipulated or hacked into remotely in the absence of stringent security and privacy controls.
Data can be tampered with and can result in the firm having a run-in with the governing body. Compliance with IT laws becomes even more important when the firm deals with online currencies.
10. PAN/GST Registration
PAN and GST today are an intrinsic part of the start-up's identity, and a business cannot fully function without PAN and GST registration. Moreover, PAN registration proof has to be produced every time the firm engages in any form of transaction worth INR 2.5 Lakh or more. Notably, the requirement for GST registration is triggered if a start-up's turnover is more than INR 20 Lakh (INR 10 Lakh in North-East states) and the start-up wishes to avail benefits of government schemes.
Therefore, in order to avoid running into legal and regulatory hurdles in the usual course of business, it is vital for entrepreneurs to secure PAN and GST Registrations at the outset of their business.
11. Hire a Law Firm
On a final note, it is advisable for entrepreneurs to enlist the services of legal professionals who can help them navigate the legal and regulatory framework applicable to their business. Even if an entrepreneur finds it difficult to divert a part of their cash flow towards, they can engage law firms with flexible pricing models and find ways to partner with them in mutual growth.
Conclusion
Without proper legal help and knowledge, a start-up will surely encounter avoidable hurdles in the course of doing business. While it advisable for entrepreneurs to engage legal advisors at the outset of their start-up, having a grounded understanding of the laws that regulate their business is a must for all entrepreneurs. We hope that this checklist helps entrepreneurs do just that.